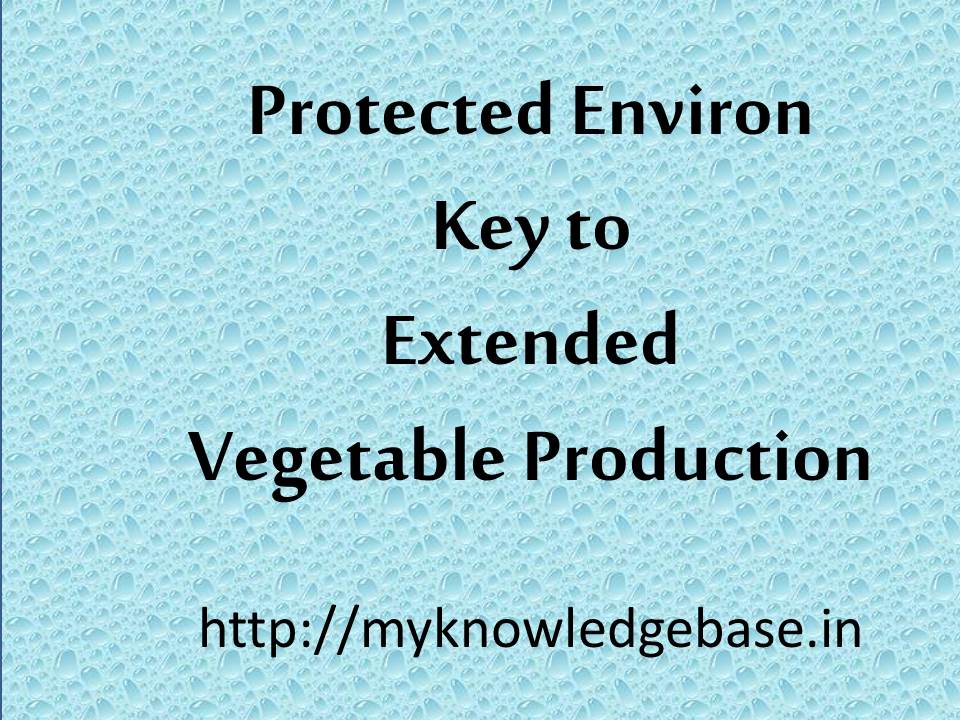 Grow Vegetables  in Protected Environs
Protected Environs are meant primarily to prevent incoming of pests, virus, fungis, etc. into your crops. Protected Environs also allow control on watering and fertilization of the crops.
Importantly, Protected Environs also help us from weather vagaries and allow production almost all year round.
Weather prediction is rather difficult. More difficult is believing in the weather predictions. Sophistication level of weather prediction has increased phenomenally due to advanced modeling; however, the uncertain unmapped effect of climate change makes weather predictions fuzzy. So there is we the farmers happy that sunny weather is predicted and happily we sow the seeds. But unexpectedly you get warnings of thundershowers and low temperature fronts moving towards your areas. So there goes all expectations.
Almost every agriculture crop (cereals, veggies, flowers, fruits etc.) can be produced in protective Environs. The type and size of protective environment is defined by the crop. If for home grown vegetables low tunnel is enough, for flowers full polyhouses are required. Farmer needs to consider several aspects before deciding on type, and size, of Protected Environs. Here we are considering vegetable production only.
Indicative List for deciding Protected Environs
1. Soil and Water quality available. Decision about fertilizer type and quantity.
2. What vegetables he will grow. Prefer self-pollinated varieties.
3. What type of Protected Environs he will provide. What will be the size?
4. Market analysis.
Farmer having decided on aspects 1 and 2 above, this blog discusses aspect 3 in some detail.
Types of Protected Environs
1. Air-conditioned Greenhouse.
2. Natural Air Flow Greenhouse.
3. Low cost Poly houses.
4. Walk-in-Tunnel.
5. Insect Resistant Net house, and
6. Low Plastic Tunnel.
I have discussed the first three types in this site and more information may please be seen there.
Walk-in-Tunnel
Walk in Tunnels come in various sizes and shapes.
Based on Size
1. Tall type
2. Low Type
Based on Shape
1. Hemispherical
2. Straight side
Typical sizes are: Height 7 feet to 12 feet; Width: 12 to 15 feet; Length: is as per land and acreage requirement. Length is also dependent on the size of poly sheet.
Too high tunnels mean greater wind resistant structures.
Straight wall type walk-in-tunnel is about 10 feet height at center and provides greater mobility to farmer.
The material used is based on economics and desired longevity of tunnel. Common material used for structures is:
• steel and GI pipes
• Bamboo
• PVC and polyethylene pipes
.
PVC pipe tunnels with short life are used with success. Such tunnels are easy to build and cost is less. It is also possible to shift place of such tunnels easily. Two-inch diameter SDR-11 black poly pipe is a better choice than PVC pipe for constructing houses up to 14 feet in width. This thick-walled, high density polyethylene pipe is commonly used in the oil and gas industry and in geothermal energy systems. It is more flexible and has a slower rate of photo-degradation (the process that causes brittleness) compared to PVC. More information check out here. https://www.noble.org/globalassets/docs/ag/pubs/horticulture/nf-ho-12-02.pdf
Use of such tunnels is recommended in winter season growing of such vegetables like cucumber, squash, pepper, bitter gourdes, water melons, brinjals, capsicum etc. Such tunnels are also productive for hilly places. If used for summers, vents are needed to be provided.
It is suggested that tunnels are aligned east to west to get most sunshine.
Insect Resistant Net house
Net houses are basically naturally ventilated climate controlled Protected Environs. More useful for summer seasons to provide shade and thus bring down temperature to the crop.
Net house structures allow growing vegetables in a way similar to that of the regular greenhouses, but with a relatively low investment. Vegetables growth within net houses must start and end in adequate periods from the climatic point of view. Therefore, the crop must be planned in such a way that most of the produce should be collected before the rainy season and the consequent lower temperatures.
Rain infiltration through the net, even if minimal, wets the plants. Prolonged wetness produces chapping of fruits, lowers quality and increases the risk of diseases. It also causes withering and drying of the leaves.
The net houses must be thoroughly covered by means of a net of size mesh – 50 that does not allow the passage of insects. The use of mesh 50 net was standardized following experiments that verified that white fly's cannot pass through through such nets. These nets are manufactured with 22-24 micron woven fibers at 50 threads per inch, and stabilized against radiation wear-and-tear, thus giving them an extended useful life.
The mesh nets contribute towards reducing the usage of insecticides due to their ability to physically impede the entry of insects into the net house.
The reduction of insecticide application allows the utilization of bees for pollination and fertilization of the tomato flowers within the net houses and the net-covered structures.
The design of shade house frames depend on the need and available engineering skill. Structural frames of Quonset, gable or Gothic arch shape or with minor modification suitable to local condition are recommended in high rainfall areas. Like for Walk-in-Tunnel structure, G.I. or PVC pipes may be utilized.
Low Plastic Tunnel
Plastics tunnel popularly known as low tunnels are miniature structures producing greenhouse like effect. These tunnels facilitate the entrapment of carbon dioxide, thereby enhancing the photosynthetic activities of the plant that help to increase yield. These structures also protect the plants from high wind, rain, frost and snow. Besides being inexpensive, these structures are easy to construct and dismantle.
Low tunnels have been used for producing healthy and high value nurseries. Use of low tunnels has been effective in crops such as Tomato, Cucumber, Radish, Beans, Asparagus, Strawberries, Melon and Tobacco etc.
Advantages
• Used for raising healthy and early nursery.
• Maintains optimum temperature for plant growth.
• Enhances nutrients uptake by the plants.
• Increases photosynthetic activities of the plants.
• Used for cultivation during winter.
• Protection against wind, rain, frost & snow.
Material Required for Construction
• HDPE / PVC pipes of one inch diameter & 2 meter in length.
• Transparent LDPE films of 25-50 microns having 2 meter width.
• 50 cm long with 6 mm diameter GI wires in which Peg to be made.
• 2 No. of Poles having 5 cm diameter.
• Twin Poly Propylene (PP) ropes.
Interested in further reading:
https://articles.extension.org/pages/18356/low-cost-high-tunnel-construction